| | |
| --- | --- |
| Posted by valadmin on June 24, 2015 at 4:40 PM | |
  On May 16, 2015, members of the Middleton Civitan Club split their time participating in two events. Some members stood by the roadside on Highway 125 in Middleton selling Vidalia onions and some attended a fundraising event for Mr. Bud Harris at Middleton City Park.
   Even though the weather was cloudy, sometimes raining and sometimes sunny, nothing would deter a few die hard members from accomplishing their mission – to sell onions!! The club ordered 60 extra bags of onions with hopes to raise even more money to continue funding their many projects. And sell they did! They were able to sell approximately half of their extra bags by waving signs and flagging down automobiles – anything to get people to stop and purchase a bag of onions.
   Club members also supported a fundraising event for Mr. Bud Harris, a long-time resident of Middleton, who has been diagnosed with cancer and is no longer able to work. The club donated $100 to Mr. Harris to help defer the cost of medical bills, as well as travel to and from the doctor.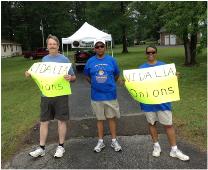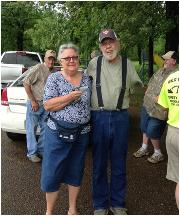 Gary Barrowclough, President-Elect             Bud Harris and Bonnie Callahan

Ralph Spencer, President
Ramona Spencer, Treasurer
Submitted by:
Ramona Spencer
Middleton Civitan Club
Categories: Club News