Civitan International, Valley District Governor Steve Teasley, Junior Civitan Governor Preston Albertia, Junior Civitan Chair Gena Albertia and Clarksville Civitan Club President Joan Gater are happy to announce a new club:
Kenwood Middle School Junior Civitan Club
Charter Number 2739
Charter Date: January 12, 2016
Celebration Date: January 19, 2016
Kenwood Middle School Library
241 East Pine Mountain Road
Clarksville, Tennessee 37042
Please send congratulatory messages and donations to:
TBD , President
Kenwood Middle School Junior Civitan Club
Joan Gater, President
Clarksville Civitan Club
2582 Hedgerow Lane
Clarksville, Tennessee 37043
jmgater[at]charter[dot]net

The Clarksville Civitan Club is sponsoring this enthusiastic new club. The club builders are Gena Albertia and Jay Albertia*.
Anyone needing more information about this new club should contact Peggy Davis at peggy.davis[at ]cmcss[dot]net or (931) 553-2080.
Please announce this information at your next club meeting and in your club bulletin. This is the 15th new Junior Civitan club announcement for the Junior Civitan International 2015-16 fiscal year.
Note: One asterisk indicates the club builder has built two clubs, two asterisks indicate three clubs and three asterisks indicate four clubs. MCB indicates the club builder is a Master Club Builder who has built five or more Junior Civitan Clubs.)
Civitan International is a non-profit, volunteer service organization based in Birmingham, Alabama dedicated to serving individual and community needs with an emphasis on helping persons with developmental disabilities. Civitan International is comprised of member clubs organized in communities across the United States and in over 35 countries worldwide all working to assist those affected by developmental disabilities through direct financial support and hands on projects. Visit us online at www.civitan.org .
Living in a community and being a member of a community are two very different things. As members of the Clarksville Corporate Business Park Civitan Club, we have chosen to be members of the community in which we live. A big part of this community are those who have volunteered to be members of our military and their families. Many people forget that our country's armed forces are a 100% volunteer force. Everyone who serves has made a choice, a commitment, a sacrifice, an oath, to defend our nation and therefore, us. They put their lives on the line for us; they spend long days, months, even years away from their families. With over a decade of war, many of our service members have come home wounded; physically, mentally, and often emotionally. It is important as members of this community that we honor their service by helping them and their families in any way that we can to cope with these hardships.
Our club has made a commitment to the Warrior Transition Battalion of Fort Campbell, to serve our brave service members and their families. From the very start of our club, even before it was officially chartered, we have been working with the WTB in many ways. We have provided material needs such as food for families in need and dozens of cases of water to support the annual Blue Grass Rendezvous Bike Ride, a 165 mile trek from Fort Knox, KY all the way back to Fort Campbell. We provided financial aid for the wounded warriors to provide day care for their children so that they could attend an annual Christmas dance with their spouses.
Sometimes our warriors must fight a different enemy; illnesses such as cancer can quickly devastate a family. Things we take for granted, such as being able to run to the market for eggs or milk can be a challenge for someone who must care for a terminally ill spouse. We are there for our warriors during these hard times as well. This year we helped to provide for a family whose father, a soldier with the 101st, was dying from cancer. For a wife with four young children and an older daughter, Easter seemed impossible as she could not leave her husband's side for fear that any moment could be his last. Well, those children had their Easter with their father, due to some special help from the Madison Street Wal-Mart and the Easter Bunny. Unfortunately, their father passed the next day, but his final Easter with his children was a special one. His passing brought a new need for the family, where we eagerly jumped in again to help, this time providing financial assistance so that the family could continue to receive another month of in home care to adjust to their new life.
All of these events have created a great bond in the relationship between the Fort Campbell WTB and the Business Park Club. Just recently, Kerry Graef, the director for the WTB, was a guest speaker at one of our meetings. The emotion in her voice as she thanked the members for their support was touching and helped to bring home just how important what we do is. To make the event even more special, she then presented the club with forty-six coins, one for each member at the time. The significance of this is very important; coins are only presented on very special occasions to individuals who have met exceptional achievements. They are usually presented by unit commanders and they are not presented very often, to have one presented by a unit is an honor. To receive forty-six of them is astounding. This great honor is a tribute to the relationship the Corporate Business Park Civitan Club has established with the Warrior Transition Unit. A relationship we will continue to nurture and grow to ensure that our Wounded Warriors and their families know that their community will always be there for them.
-WTB article from Brenton

  On May 16, 2015, members of the Middleton Civitan Club split their time participating in two events. Some members stood by the roadside on Highway 125 in Middleton selling Vidalia onions and some attended a fundraising event for Mr. Bud Harris at Middleton City Park.
   Even though the weather was cloudy, sometimes raining and sometimes sunny, nothing would deter a few die hard members from accomplishing their mission – to sell onions!! The club ordered 60 extra bags of onions with hopes to raise even more money to continue funding their many projects. And sell they did! They were able to sell approximately half of their extra bags by waving signs and flagging down automobiles – anything to get people to stop and purchase a bag of onions.
   Club members also supported a fundraising event for Mr. Bud Harris, a long-time resident of Middleton, who has been diagnosed with cancer and is no longer able to work. The club donated $100 to Mr. Harris to help defer the cost of medical bills, as well as travel to and from the doctor.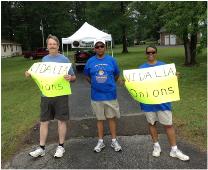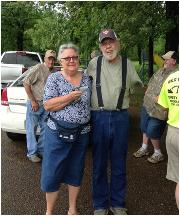 Gary Barrowclough, President-Elect             Bud Harris and Bonnie Callahan

Ralph Spencer, President
Ramona Spencer, Treasurer
Submitted by:
Ramona Spencer
Middleton Civitan Club
  Established in 2009, the Cordova Civitan Club is a dynamic and diverse club that is working hard to make a difference in the Cordova community. Our members include real estate agents, bankers, housewives, nurses, business men and women, veterans, entrepreneurs, retirees and many others.
  One of our members, Mike Cunningham is an executive director with the YMCA. He was the founding director of the Cordova YMCA since its inception in 2010 and allowed the Cordova Civitan Club to meet at the Cordova YMCA. In 2013, the Cordova Y was asked to pilot a SNAAP program for special needs teens. SNAAP is Special Needs Aquatics and Athletic Program-designed to help these athletes gain self-confidence and strength and to enhance fitness and endurance in a safe, supportive atmosphere. Our club was excited to support Mike and the Cordova Y in this venture by contributing $1000 to help launch the program. In addition, through the efforts of one of our members, Dossett Foster, we were able to further support the program with a grant from Civitan International for $500.
  Today, under the direction of Brian McLaughlin, the new executive director for the Cordova Y, (and a new member of the Cordova Civitan Club) and Jimmy Corrigan, director of the SNAAP program, this program has 2 paid staffers and 4 volunteers who work with a group of 14 athletes, ages 14-18. Each week, they guide them through a variety of exercises, drills and strength training. To date, the program has been mostly land based, but the goal is to expand to include a full water component in the fall. Since, the program began; they have grown and expanded, including the creation of a partnership with Madonna Learning Center-a "private, independent and faith-based school for children and young adults with disabilities". In 2016, they hope to run SNAAP as a class through the MLC School, in addition to the program at the Y. Plans are also in the development phase for a possible partnership with the University of Memphis to connect grad students with the program in an internship program.
  The Cordova Civitan Club is excited to have been able to help start this fantastic and dynamic program at the Cordova YMCA and we look forward to an ongoing partnership with the YMCA.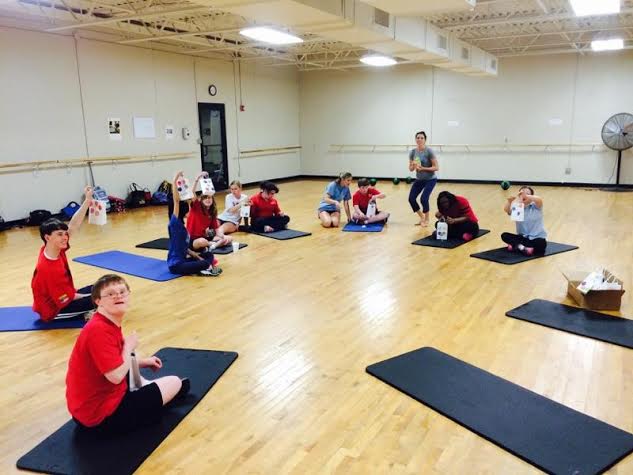 -Jeannine D
  We have been very active in our community and like many clubs the biggest project was of course the Vidalia Onion sale. We love this very successful event and it certainly helps with our budget. It allowed us to apply for Commodore status this year, backing up to pick up this new level of Civitan at the Helm, after achieving Admiral last year. Our goal is to get the highest level one day soon. We have a yard sale and community dinner planned for the near future and we're always looking for activities we can participate in to benefit our community or raise funds.
   We were proud to have International President Jay Albertia as our guest recently, our banner will be close to full when we get his special banner patch added along with some others that haven't made it there yet. We were disappointed that Preston was unable to accompany his father on this visit as planned, we had looked forward to have the presidential duo as our guests.
   Member Joe Jackson was presented a 25 yr plaque from International earlier this year. He is our 4th current member to attain that status, joining Margaret Weaks, JoRene McNeil, and Jan Doall. That gives us 114 yr experience in Civitan with just these 4 members. If we could just recruit members that would stay with us, we do have several good folks coming along though.

  New officers are in place for the upcoming year, though both Mary Hershey-President, and Jan Doall-president-elect will retain those offices for another year. Barbara Yancey will take over as Treasurer and Reggie Caldwell as secretary, Joanne Cox-Candy Box chair and Alice Webb-Fruit cake chair.
  Paris is proud to submit Alice Webb as a candidate for Director of Area 9 she will do a splendid job of representing our area if elected and we have no doubt that she will be.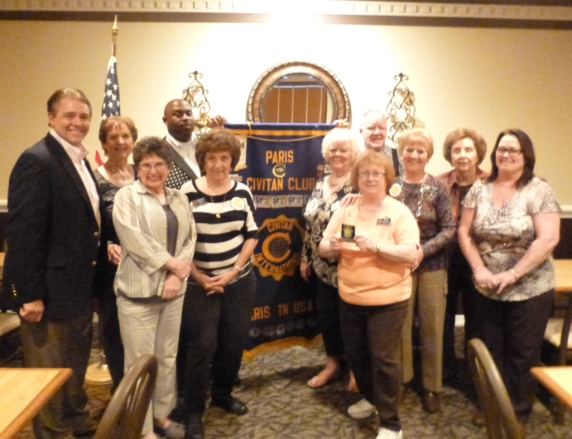 -Jan D

Clarksville Civitan continues their tradition of excellence! The second annual APSU scavenger hunt was successful in raising money for the annual Western Grizzard Scholarship awards to deserving Montgomery County high school graduates attending APSU. Our "presence" was so noticed at the Clarksville Rivers and Spires festival that an attendee decided to come to our meeting and check us out! Our "face" and what we are doing is getting us noticed! Speaking of noticed, the sponsored Boy Scout troop, Girl Scout troop, and three sponsored Junior Civitan clubs were the recipients of a total of $2000.00 donations from proceeds of the annual Civitan Fish Fry! Thanks to all who worked and supported including those youth!!
Service is one of our key components, so the annual Vidalia onion sale is a key piece of our annual activities and budget! In fact our club, and Mr. Onion, Leroy Parks, organizes, orders and manages logistics for onion orders for our club as well as several surrounding clubs in order that they may benefit as well. Our club traditionally is able to give at least a $5000.00 check that is matched by a club in Virginia to the Civitan International Research Center at UAB. And we all know what great things are being done at the research center!
Inspirational, is the word to describe APSU graduate Julie Flowers thank you speech at a recent meeting. She was one of the sponsored Girl Scouts that received a Grizzard Civitan scholarship to APSU. She graduated in 3 years with a 4.0 (and no debt) and has secured a teaching positon in Montgomery County. Julie submitted her application to be a member, wanting to give back to where she received so much from during her high school and college years. Civitan DOES make a difference!
 -Donna S

Hello everyone. .. It's that time of year again for New Providence. From February 1-28 we will be taking any teddy bears to donate to the New Providence Community Center for children in crisis. Last year we were able to donate over 300 stuffed animals to them. If you or your club would like to donate please let myself or our club President Geogina Crosby. Thank you and we look forward to hearing from you.